Apollo Belvedere
Visionnaire NFT 2° drop will be a phygital art experience: a physical bust carved in Carrara marble and a unique NFT.
After the 1° teaser on Foundation with 3 NFTs, the vision for this 2° drop is to create a singular and one-of-a-kind piece of art in opposition to the ever-evolving and massively reproductive space of NFT art.
This 2° drop tells the unique story of the union between traditional art and the NFT, combining craft, quality and digitalization.
The life-size bust, inspired by the capitonné leather typical of the furniture world, decodes antiquity by bringing back to the contemporary the careful study on the contrasts that made the work famous: softness and hardness, virtual and physical, past and future.
Combined with the marble statue, Monaghan created a surreal 3D animated video where an alien-like spacecraft reveals the sculpture in a Baroque environment.
"The bust is confronted by a fiery red panther, a symbol associated with the ancient Greek god Dionysus and notions of chaos. The Olympian deity Apollo, a symbol of aesthetic perfection, appears to vanquish the beast and restore order to this dream-like world".
Our partners for this project include sustainable blockchain Palm NFT Studio for minting and 4ARTechnologies, a marketplace that also provides security and protection for the art and collector.
Launched on Foundation in March 2022
In this baroque vignette, the iconic Apollo Belvedere is re-imagined with capitonné, a luxurious furniture-like skin. This rendition of the famous bust is a study in contrasts between the virtual and physical, in a futuristic yet classical interior environment.
Surveillance Allegory is a surreal combination of soft fabrics, baroque architecture, and surveillance equipment. Contrasting the past with an uncertain future, the work poses the question: "How do we envision tomorrow?"
Nostalgia and the history of digital art come together in this baroque homage to the Vaporwave aesthetic. The Apollo Belvedere is present between different dimensions, as the connecting protagonist of the digital art landscape.
4ARTechnologies is a market leader in authenticity, security, and transparency for the art world. 4ART will authenticate the physical marble sculpture and NFT artwork through their NFT+ technology, making the collector experience a one-of-a-kind purchase, digital and physical, and one-of-a-kind proof of uniqueness through the blockchain certification. 4ART's process has legally binding documents that transparently state the enclosed rights and privileges as part of the NFT+ metadata. Stored on the Ethereum blockchain. 4ART offers the patented digital fingerprint for physical art, securely connecting it to its NFT. Digital artworks are identified with a forensic watermark, providing the same high level of safety.
Jonathan Monaghan
Digital Artist | Graphic Designer | Animator
The American visual artist works on the relationship between physical sculptures and 3D animation. Drawing on a variety of sources like art history and video game subculture, Jonathan is an early adopter of NFTs and he has been using the bitcoin blockchain to authenticate his digital artworks as early as 2013. Since then, he has been active in the cryptoart space, including being featured in the launch of crypto.com's NFT platform. After his exhibition at the Sundance Film Festival, the Hermitage Museum in St. Petersburg and the Palais de Tokyo in Paris, Monaghan found in Visionnaire the perfect partner to reimagine the masterpiece Apollo del Belvedere.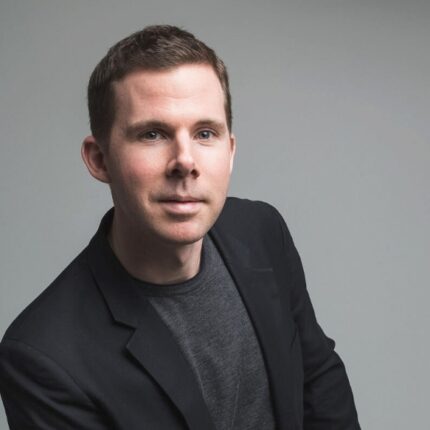 Visionnaire is a meta-luxury brand that has become the benchmark and frontrunner in the sector of Made in Italy interior design. The company finds its roots in the timeless heritage of artisanal wisdom, cultivated by the company and its stakeholders. All of which contributes to Visionnaire's act of transformation of high-quality materials into products for high-end environments which gives significance to the "experience factor". This NFT+ collection creates a dynamic addition to Visionnaire NFT's portfolio of artwork on the blockchain due to the physical and digital duality protected through a blockchain certification process. The purchase of this art redefines and enhances the user experience, immediately satisfying a collector with a tangible artistic investment while simultaneously immersing them into the web3 community with a one-of-a-kind digitized collectible piece of art.
NFTs (Non-Fungible Tokens) are a type of cryptographic token on Blockchain that represents a unique digital or real asset. The blockchain verifies ownership, provenance, and transaction history in relation to the NFT. The benefit is that the NFT are unique given their non-replicable code.
A list of active community members who get early and guaranteed access to mint at a specific date and window of time. Need to know where to start? Subscribe to info@visionnairenft.com to be added
to our exclusive list and be the first to know about our next drop.
Purchasing art should be thrilling but safe. Never share your Wallet private key or seed phrase with anybody. We will never send you links via direct messages on Discord or other nonofficial channels. Visionnaire will never contact you directly to offer support, but only to confirm your subscription to our Whitelist and Newsletter. You can buy your official Visionnaire NFTs only through Foundation on Johnathan Monaghan's collection page. Only trust official information about our drops published on this website or Visionnaire's social media channels.
NFTs can be purchased with cryptocurrencies Ethereum via crypto exchange platforms. Need to know where to start? info@visionnaire-nft.com 
NFT are tradable and resellable through platforms such as Opensea and you are free to resell your NFT freely at the price you want at any time.
Reducing our CO2 emission is one of our top goal while developing the NFT+. For this collection, we have partnered with Palm NFT Studio, a sustainable blockchain, to cover our impact during the process of minting. Palm NFT Studio has a 99% reduction in energy consumption compared to the usual method on Ethereum blockchain. Our second partnership with NGO Rete Clima will help compensate our CO2 emissions for the different aspects of creating the NFT+ from start to finish (3D design process, electricity consumption, technology, and transportation).
Join our newsletter and be one of our members
get early access to our drops, exclusive NFTs, ultra-rare collectibles, and thousand of benefits granted to our members